DEFI
1inch.Exchange
What is 1inch exchange?
1inch exchange is a DEX (decentralized exchange) aggregator, it splits orders among various decentralized exchanges to achieve the best rates possible.
You can use
1inch.exchange
to swap tokens at the best prices in the market. 1inch.exchange also allows users to create limit orders for free and earn interest by lending cryptocurrencies and supplying liquidity to liquidity pools.
1inch exchange fees
As a DEX aggregator, 1inch itself does not charge any fees for swapping tokens, the fee that will be paid for orders rather depends on the decentralized exchanges from which liquidity is sourced.
For example, Uniswap charges a flat fee of 0.30% for orders, 1inch's AMM "
Mooniswap
" has a fee of 0.30%, and Balancer has variable fees depending on the pool. For fees of other decentralized exchanges, you can check out this
list.
What is more important today for DEX users is rather gas fees. Due to the congestion in the Ethereum network, you may have to pay high transaction costs. To minimize this burden, you can activate Chi Gastoken on the platform to reduce your transaction costs.
1inch exchange supported wallets
1inch is a decentralized, Ethereum-based DEX aggregator. Users access to services provided by 1inch.exchange without involvement of 1inch or third parties.
You can connect your Ethereum wallet to
1inch.exchange
and start swapping tokens on your own. 1inch supports various cryptocurrency wallets.
1inch.exchange supported wallets:
MetaMask, Trust Wallet, Torus, FortMatic, WalletLink, Portis, Authereum, UniLogin, WalletConnect, Bitski and
Ledger
.
You can use 1inch.exchange with various Web3 wallets, mobile wallets or Ledger. I'll show you how to use 1inch.exchange with MetaMask below.
1inch exchange trading volume
1inch.exchange is a very popular platform among traders. It is currently one of the top dapps by trading volume. You can see the daily trading volume of 1inch in this chart:
How to use 1inch exchange
Step 1: Open your wallet and connect it to 1inch exchange
First log in to your MetaMask wallet on your browser or open another wallet supported by 1inch that you want to connect to 1inch.
Go to
1inch.exchange
and click "connect wallet" button located at the top right corner of the page. Accept the terms and click MetaMask. It might also be seen as Web3 wallet if 1inch has not detected MetaMask yet. In that case, you can refresh the page.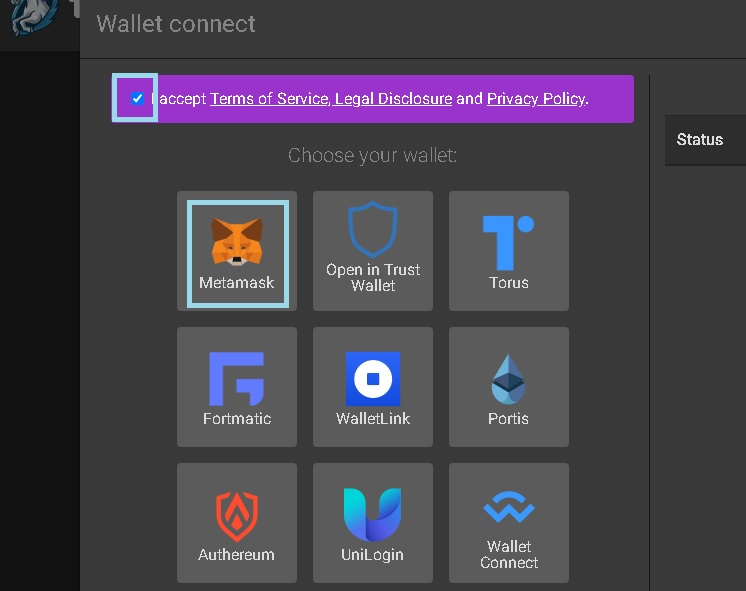 Step 2: Confirm the connection on MetaMask
When you click MetaMask on 1inch.exchange, a notification will pop up on MetaMask for the confirmation. You can simply choose the address you want to use and connect your wallet to
1inch.exchange
through the MetaMask notification.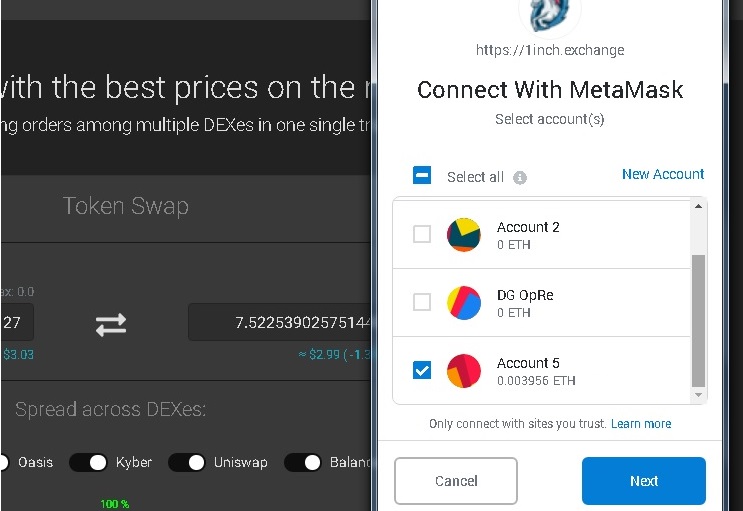 Step 3: Swapping tokens on 1inch exchange
First choose the coin you want to swap and enter the amount of coin. Then choose the coin you want to swap to. In the example below, I am swapping ETH to BAND.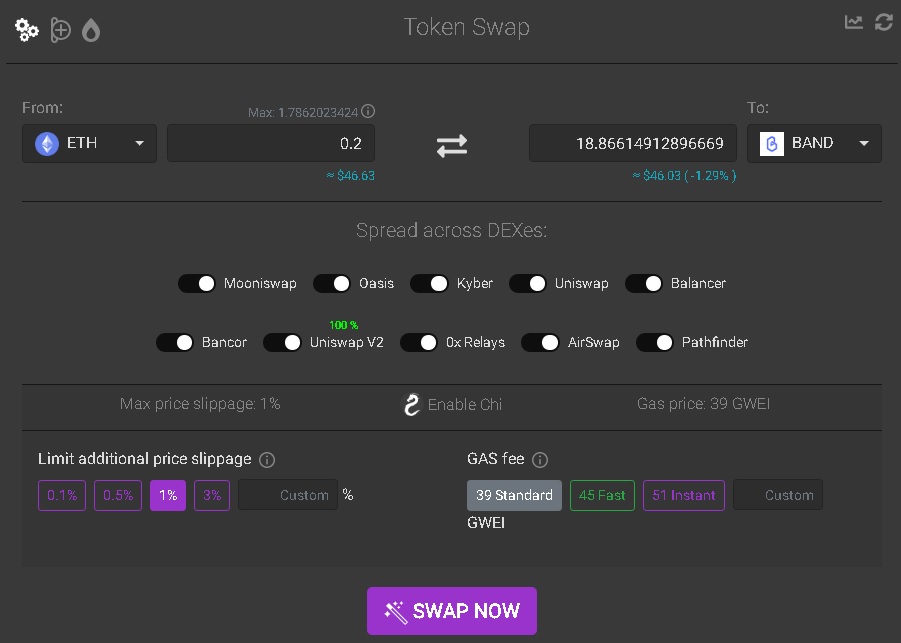 Only Uniswap is used for this order which gives the best rate at the moment. Sometimes the order may be split among few decentralized exchanges to achieve the best rate.
You also need to give the platform the permission to spend the token you'll be swapping by clicking "unlock" or "infinity unlock". "Infinity unlock" will save you gas costs as you will not need to unlock it again for future transactions.
You can set a custom GAS fee and also enable Chi Gastoken to pay lower gas fees. To learn how to use Chi Gastoken, you can refer to this
article
.
If you don't want your transaction to fail due to price movements, you can increase the rate of price slippage. To execute the swap, click "swap now" button and confirm the transaction on MetaMask.
1inch exchange limit order
If you don't want to execute a token swap at the market rates, you can place a limit order using limit order feature of 1inch.
To place a limit order, choose the pair and enter the amount of coins. You also need to enter the duration of your order within which it will be active and can be executed by takers.

1inch exchange lending & liquidity pools
You can not only swap tokens at the best rates on 1inch, but also lend your cryptocurrencies or supply liquidity to liquidity pools to earn interest.
Click the "earn" page on
1inch.exchange
to view liquidity and lending pools and filter them by token and platform. You can view daily, weekly and monthly return rates, and provide liquidity to lending and liquidity pools of various dapps such as Aave, Compound and Uniswap.
---
---